Interview with Zuzanna Sazonow and Aleksandra Pytka the team of TIP - 2022 global winner in category Daylight in Buildings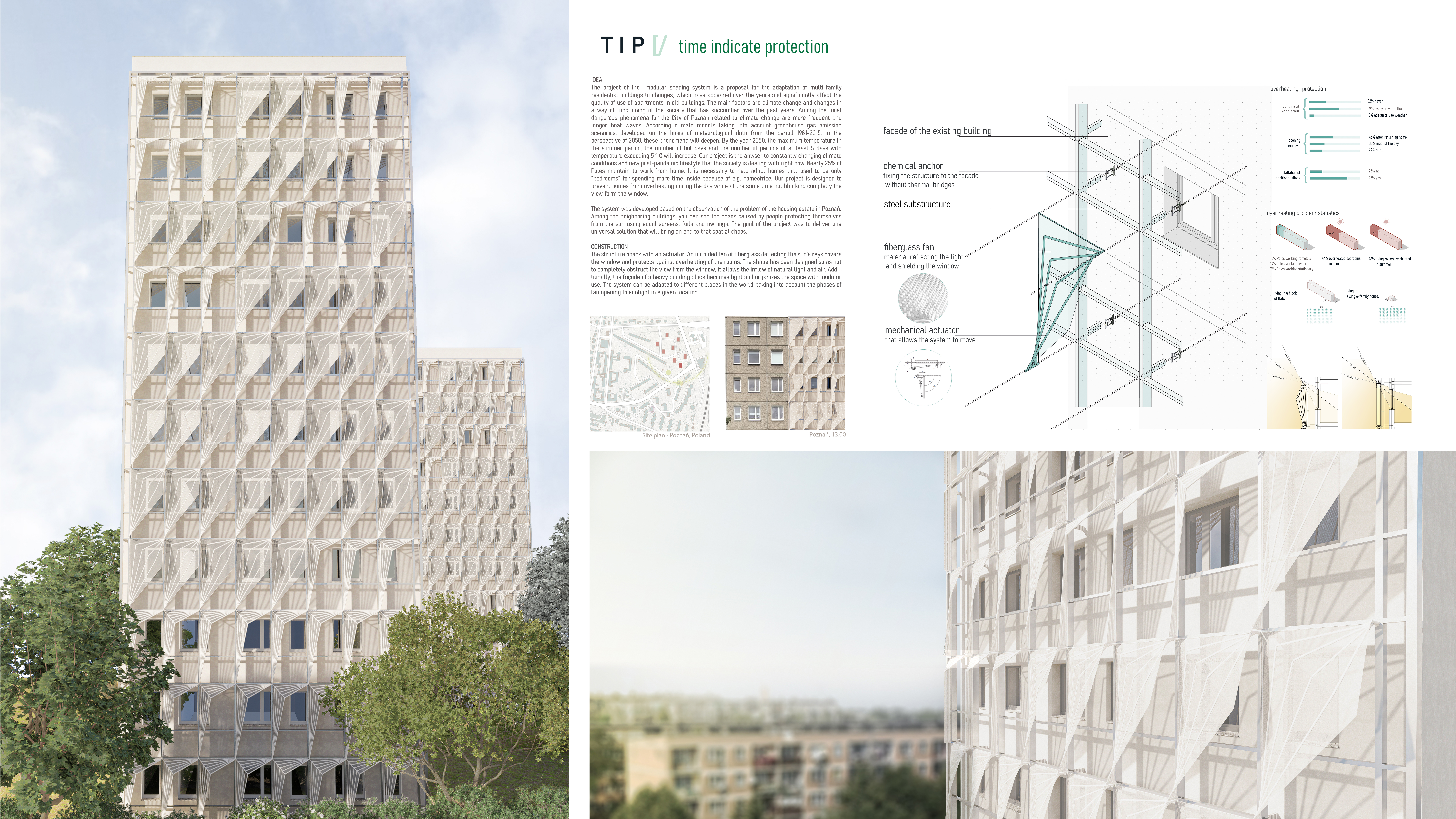 Author
Melissa Gibson
Date
11 Jan 2023
Share
Copy
Following the announcement of the global winners of the International VELUX Award 2022 we talked to Zuzanna Sazonow and Aleksandra Pytka, students from Politechnika Poznańska in Poland and the global winners in the category of Daylight in Buildings.
The team tell us about their experience of working with the theme of daylight, its contribution to their professional development and what their is message to the students preparing to participate in the next cycle of the competition.
Can you describe to us your experience of developing your project and about working with the daylight as a theme?
Aleksandra:  It all started with innovation classes at the Poznań University of Technology, where we were supposed to design a modular façade corresponding to a given problem. After a preliminary analysis, a decision was made on a shading system. I once read that innovation is primarily observation and improvement. We have observed the typical struggle of people with protection from the sun. They mainly used roller blinds, which we then diagnosed – they take away the entire view from the window, they are unsightly, they close the interior to natural ventilation and natural light. We came up with an idea for a fan following the sun. We developed this concept with cyclicality and that's how TIP was created – time indicates protection.
Zuzanna: Our project came out as a result of working on the theme of innovative façade systems. It is not difficult to design a nice looking system. In our design process we attempted to provide a solution that would not only elevate aesthetic qualities of a certain façade but also solve the problems that residents struggle with. The most important for us was to observe peoples needs and address them in our design. Daylight in buildings is an amazing quality but in some situations may cause difficulties. We noticed that in summertime in our area people struggle more and more with overheating of their apartments. It may seem unusual for this part of the globe, but taking into account global warming this phenomena will deepen. So to bring back comfort to everyday life of residents of existing blocks of flats we developed a modular shading system that can be adapted to existing buildings.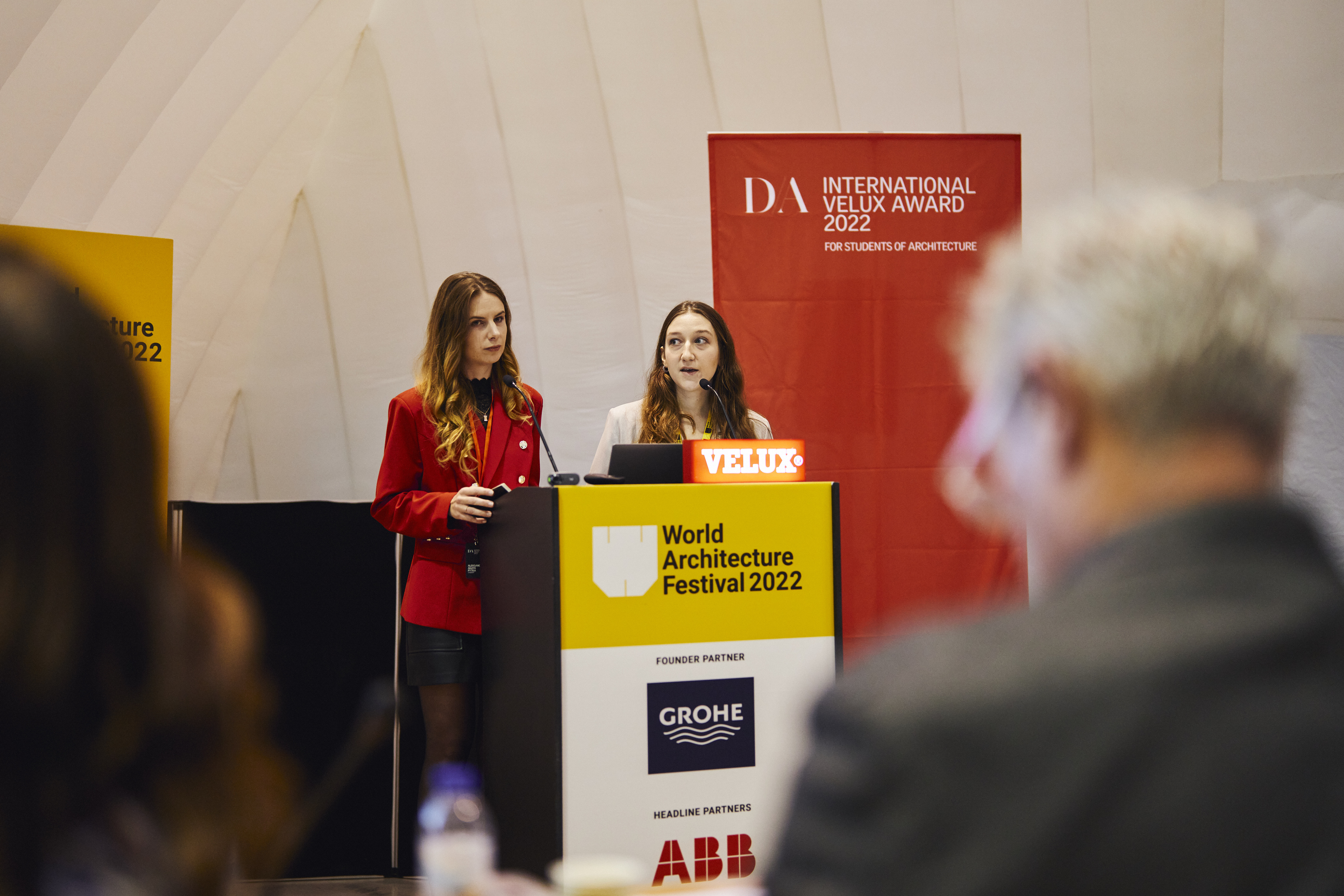 "It is really uplifting to have your project recognized by such famous architects."
Tell us a little bit about collaboration you had within your team, and how you collaborated with your teacher?
Aleksandra: We had a great time working together. Our project was based on real problems and was supposed to be real to use. The solution had to be not only beautiful but also very practical. So Zuzanna and I were a good combination of a technician and an artist. We are grateful to our professor for raising the bar higher for us. When it seemed that we had everything perfected, she suggested small corrections – and winning is precisely in such details.
Zuzanna: Our collaboration was surely a pleasure. We understood each other very well as we both pay attention to the user experience and wellbeing inside buildings that we design. We connected over the will to find the best solution possible to maintain that comfort inside existing buildings. As Ola said "the devil is in the details". Our professor on each project consultation encouraged us to work on the concept a little bit more in detail. And those details really matter.
What have you gained professionally, by doing this competition?
Aleksandra: Our return flight from Portugal passed over the Alps. Then I thought that there are many peaks and we are somewhere on one of the peaks of dreams.  We had the pleasure of
meeting many wonderful people from around the world, we overcame the courage to make
our first presentation on the international stage, we received applause from a group of great
architects at the World Architecture Festival. That day was special and a turning point in our
lives. Although a huge dream has just come true, we are still on the way.
Zuzanna: We gained so much. First of all it is really uplifting to have your project recognized by such famous architects. It gives us more confidence and encourages to pursue our dreams as architects. Presenting our project in front of the jury was an extremely valuable experience that taught us how to do so in a professional, convincing way. As architects at the beginning of our professional careers we found that very useful. Thanks to the competition we had the possibility to meet other participants and get to know their perspective on the competition theme – working with daylight. It is interesting how different cultural backgrounds affect the way architects and designers attempt this topic. It was really an eye opening experience.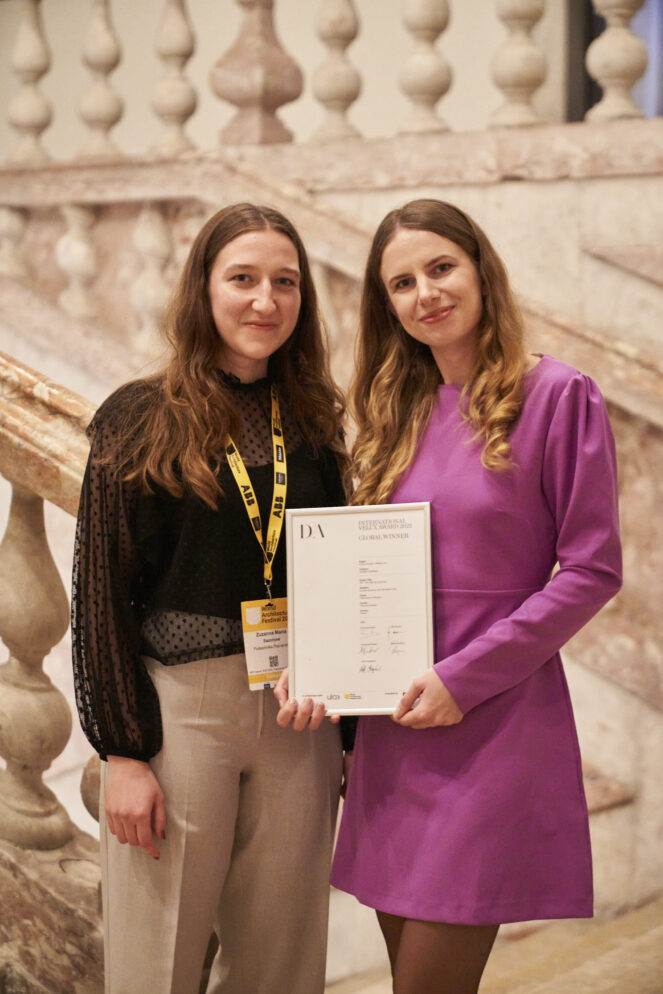 "Be sensitive to your surroundings. The best ideas come from observation of the space near you."
Do you have any advice for students considering participating in the 2024 competition?
Aleksandra: Prior to our submission I looked through the previous editions of the competition and admired other participants, but the moment must come to take up the challenge yourself. You mustn't focus on the result, just practice your passion. Competitions are for developing creativity and opening up to various topics. I love this moment when projects from around the world are published and I can see how we can create so many answers on the same topic. It is a great pleasure for us that thanks to VELUX we can share our view on light with the world and present an unconventional approach.
Zuzanna: Participation in the competition is a valuable experience, after which we know more – what we do well, and what mistakes to avoid in the future. The international nature of the competition gives an opportunity to present ideas and draw attention to the issues that are important to us. I would say – be sensitive to your surroundings. The best ideas come from observation of the space near you.