KIMSOOJA : Weaving the Light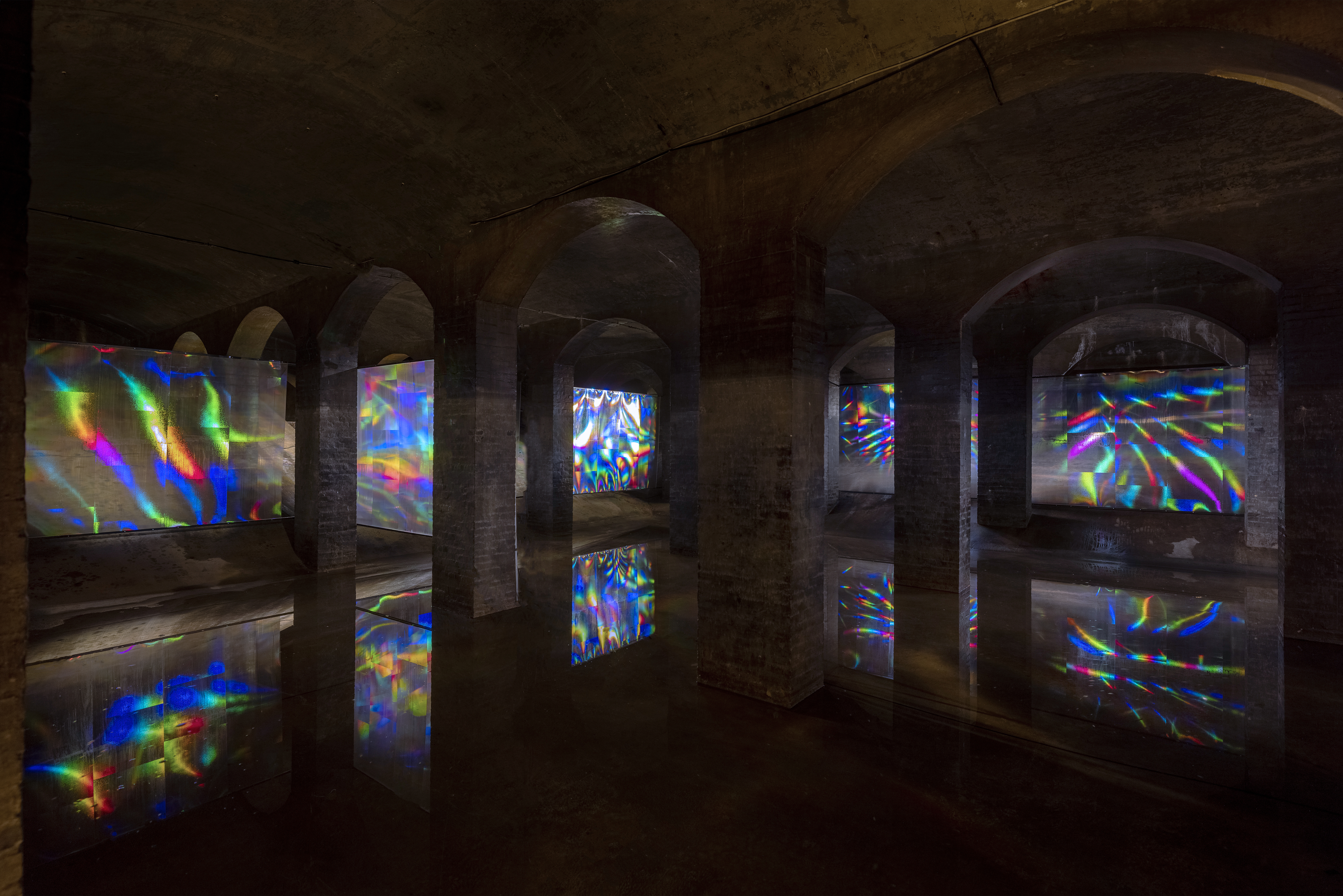 Date
25 Apr 2023
Share
Copy
In 2023, the South Korean artist, Kimsooja, will capture the underground space of Cisternerne. The audience is invited into an etheral space where light, projected into iridescent color spectra, transforms the former water reservoir into a sea of light.  
Every year, the Frederiksberg Museums invites an artist to create a site-specific work for the 4,400 square meters of Cisternerne, into which the daylight never reaches, the humidity is close to 100%, the reverberation is of 17 seconds, and the temperature fluctuates between 4 and 16 degrees Celsius.  
In an extensive installation of light and color, Kimsooja transforms Cisternerne into an ephemeral universe, where the light radiates like brushstrokes on transparent canvases and breaks the darkness. The work is comprised of diffraction grating film that is mounted on transparent panels, which altogether let light pass through a microscopic surface of horizontal and vertical prisms. Rays of light split into vibrant colors that dynamically weave in and out of the subterranean colonnades. 
As you wander through the exhibition, surfaces appear as abstract paintings which continuously change form. The visitors' movements create fleeting silhouette effects while the very same reflections appear on water surfaces, allowing light, body and architecture to pose as one choreographic performance. Simultaneously, the light reveals otherwise unseen details in the old water reservoir, and on the slopes encircling the rustic vaults and stalactite-covered walls, one can notice new illusory spaces that echo the rows of columns and masonry.  
This large-scale ambient installation in Cisternerne activates all our senses, making us aware of ourselves as well as our surroundings. With her minimal material intervention, Kimsooja offers a perceptual, exploratory medium that invites visitors to wholly embrace the existing space and experience it in a new light.  
Director of the Frederiksberg Museums, Astrid la Cour, says about the exhibition:  
"Cisternerne was once filled with clean drinking water for the city of Copenhagen, yet today, the chambers are filled with darkness. A darkness that is opened every year by a new artist who fills it with meanings, narratives, and poetry. Kimsooja truly comprehends the potential and inherent beauty of Cisternerne as she has created an exceptional exhibition giving the individual an opportunity of simultaneously sensing the depth of the darkness and the transformative power of the light."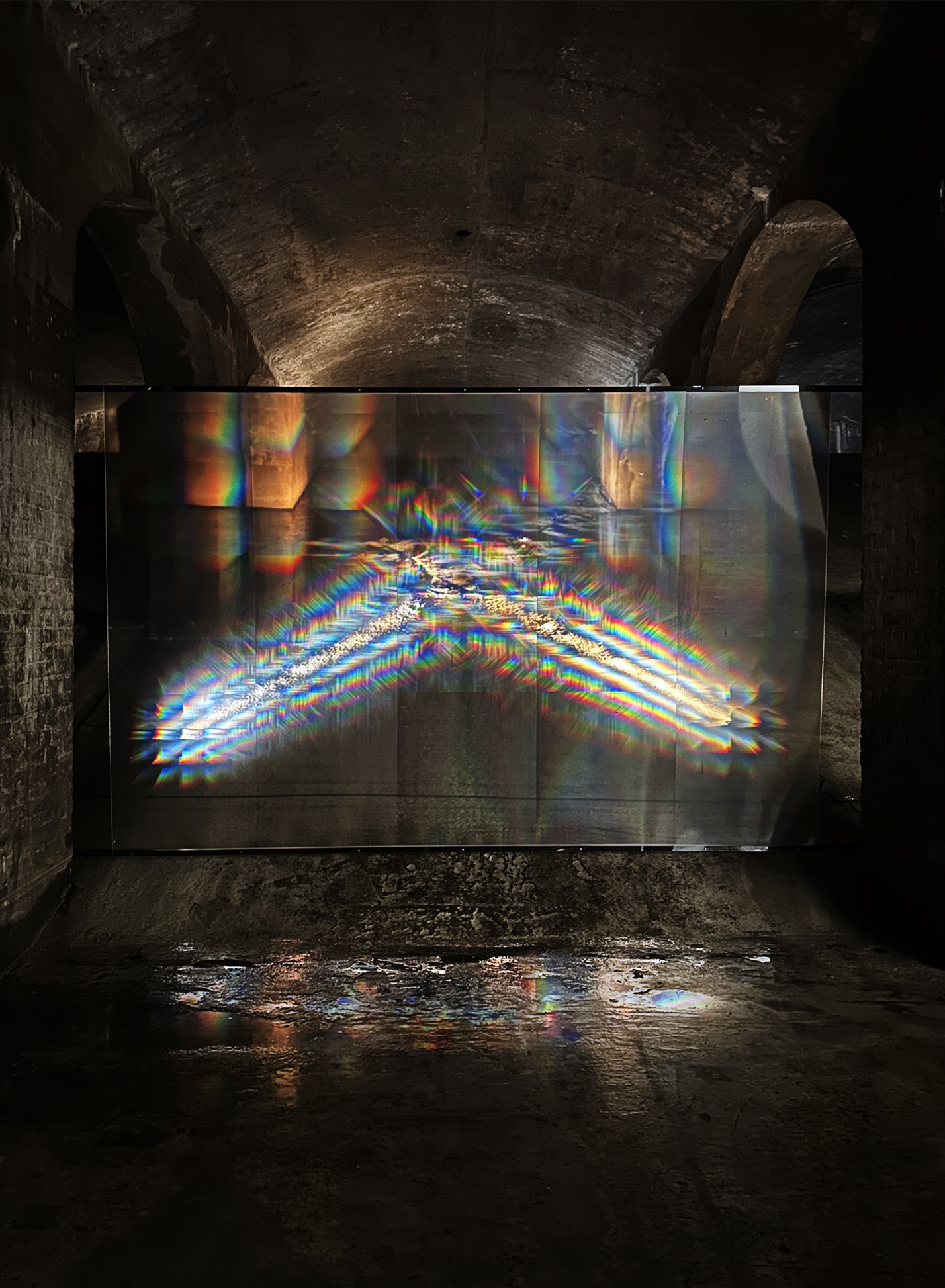 Image: Siw Aldershvile Nielsen
About the artist  
Kimsooja (b. 1957, Daegu, South Korea) has established herself as one of the most defining artists on the international art scene since the 90s. She works across a broad range of media from performance, film and photography to site-specific installations with textiles, light and sound. Her work addresses humanistic questions about existence and the current global challenges in the context of art history. 
Weaving the Light, created specifically for Cisternerne, is deeply rooted in Kimsooja's artistic practice as a painter. While she often works with natural light refractions integrated into architecture, she has now exclusively adopted artificial lighting and free-hanging diffraction canvases to construct a multi-dimensional painting through which you can walk.  
Kimsooja's work has been part of numerous solo exhibitions at major institutions as well as site-specific installations around the world, most recently at Cathédrale Saint-Étienne de Metz (2022), Traversées/Kimsooja in Poitiers (2019), Peabody Essex Museum (2019), Yorkshire Sculpture Park and Chapel (2019), Kunstmuseum Liechtenstein (2017), Guggenheim Museum Bilbao (2015), Centre Pompidou-Metz (2015), Crystal Palace of Reina Sofia Museum (2006), MAC Lyon (2003), PAC Milan (2003), Kunstpalast Düsseldorf (2004), Kunsthalle Wien (2002), Kunsthalle Bern (2001), and MoMA PS1 (2001). Additionally, Kimsooja has participated in more than 40 international art biennials, including the 55th Venice Biennale (2013), where she represented South Korea.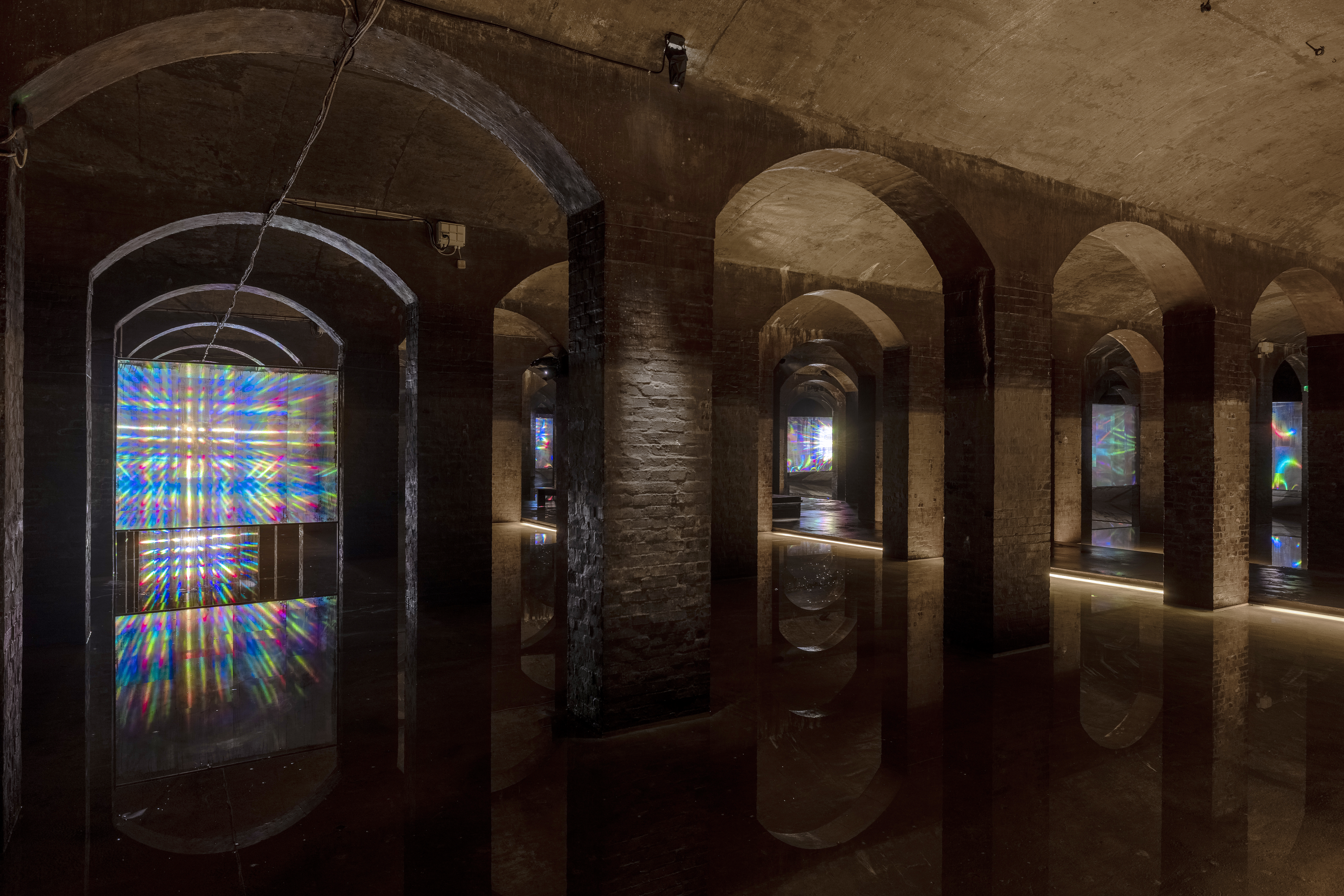 Image: Torben Eskerod
Funds and sponsors:   
Arbejdernes Landsbank, Augustinus Fonden, Becket-Fonden, Det Obelske Familiefond, Frederiksberg Fonden, Frederiksberg Kommune, Grosserer L. F. Foghts Fond, Knud Højgaards Fond, Statens Kunstfond and Aage og Johanne Louis-Hansens Fond.  
Practical information about the exhibition
Kimsooja: Weaving the Light 
Cisternerne in Søndermarken opposite Frederiksberg Palace,  
Tuesday – Sunday: 11-18 / Thursday: 11-20,  
www.frederiksbergmuseerne.dk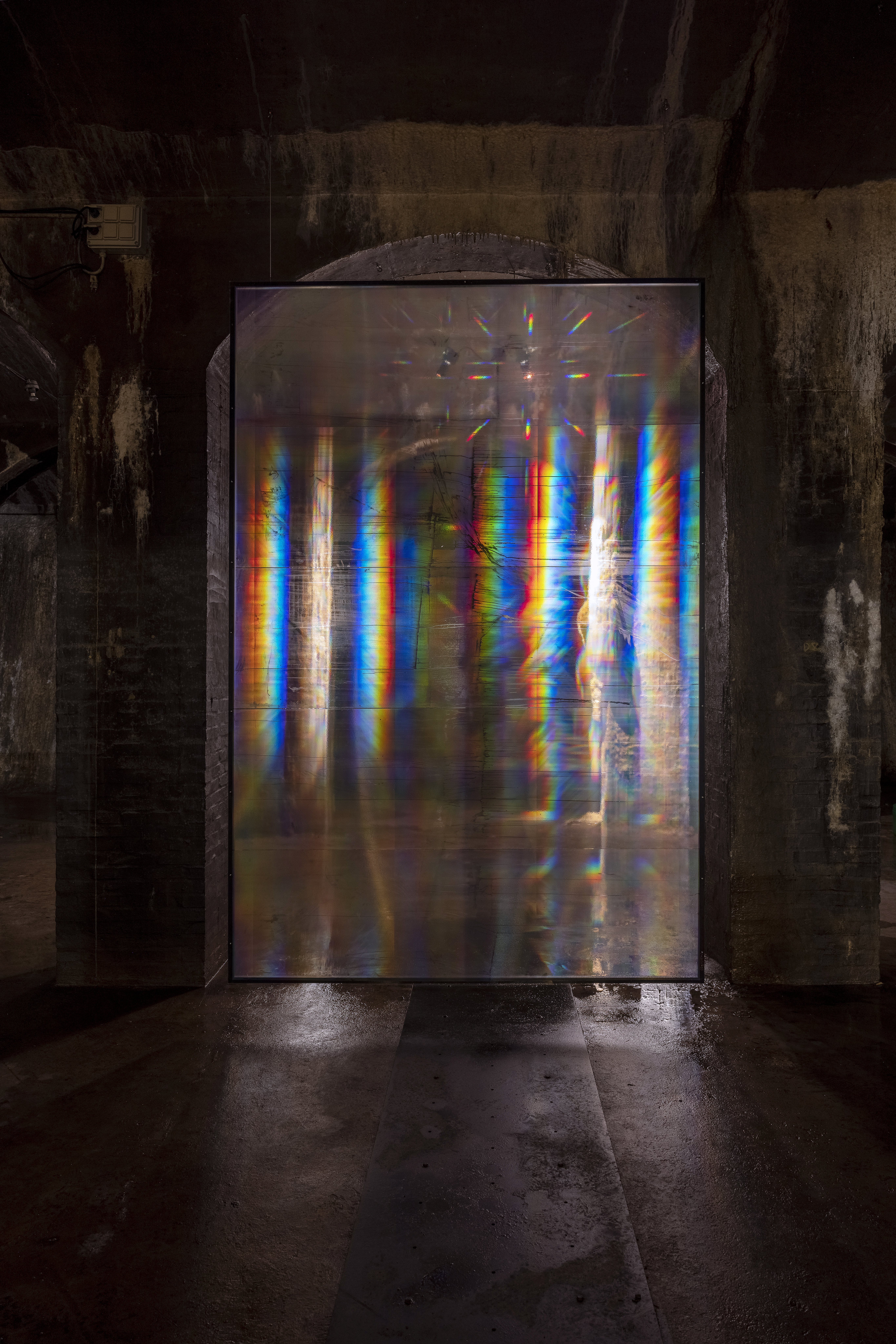 Image: Torben Eskerod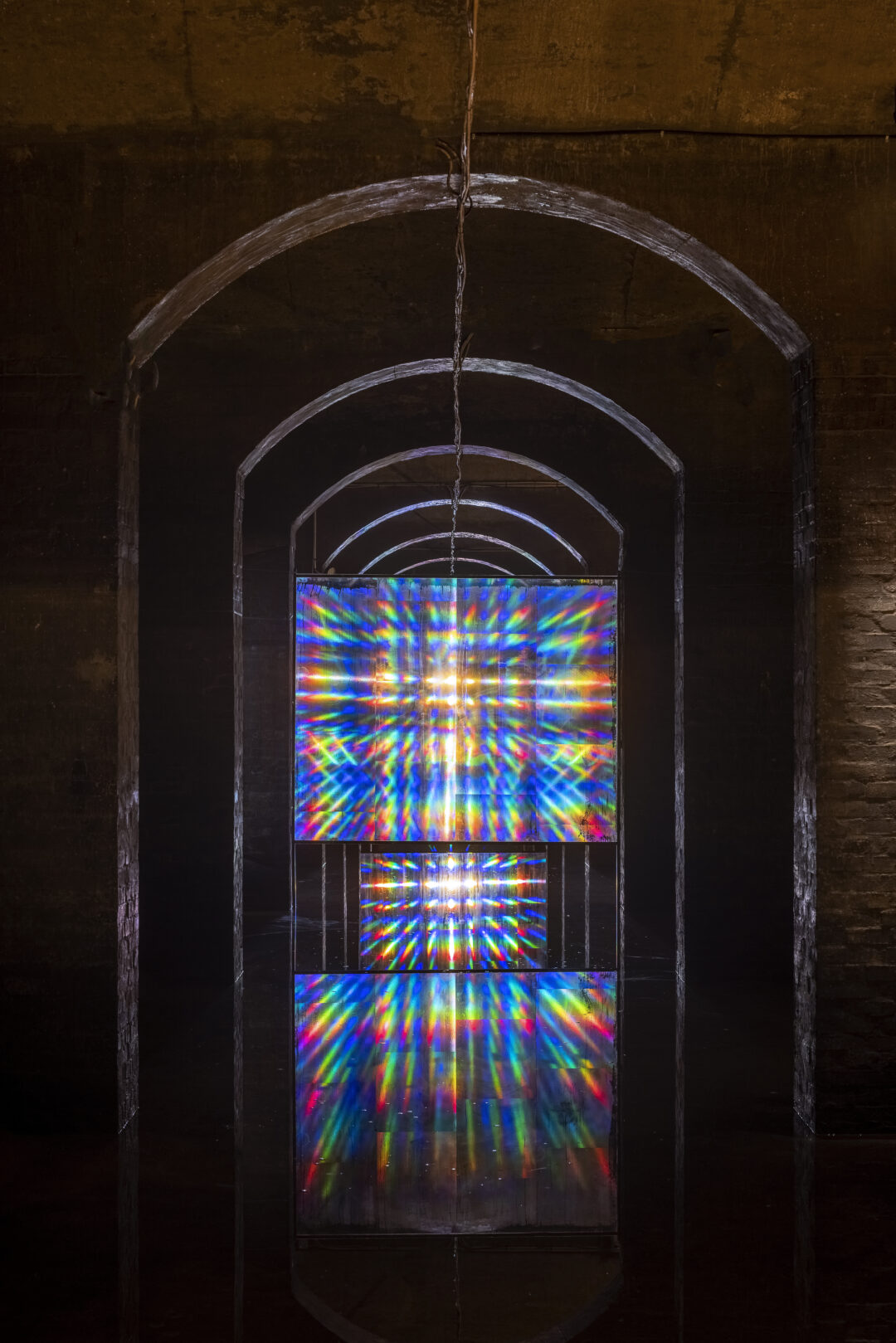 Image: Torben Eskerod