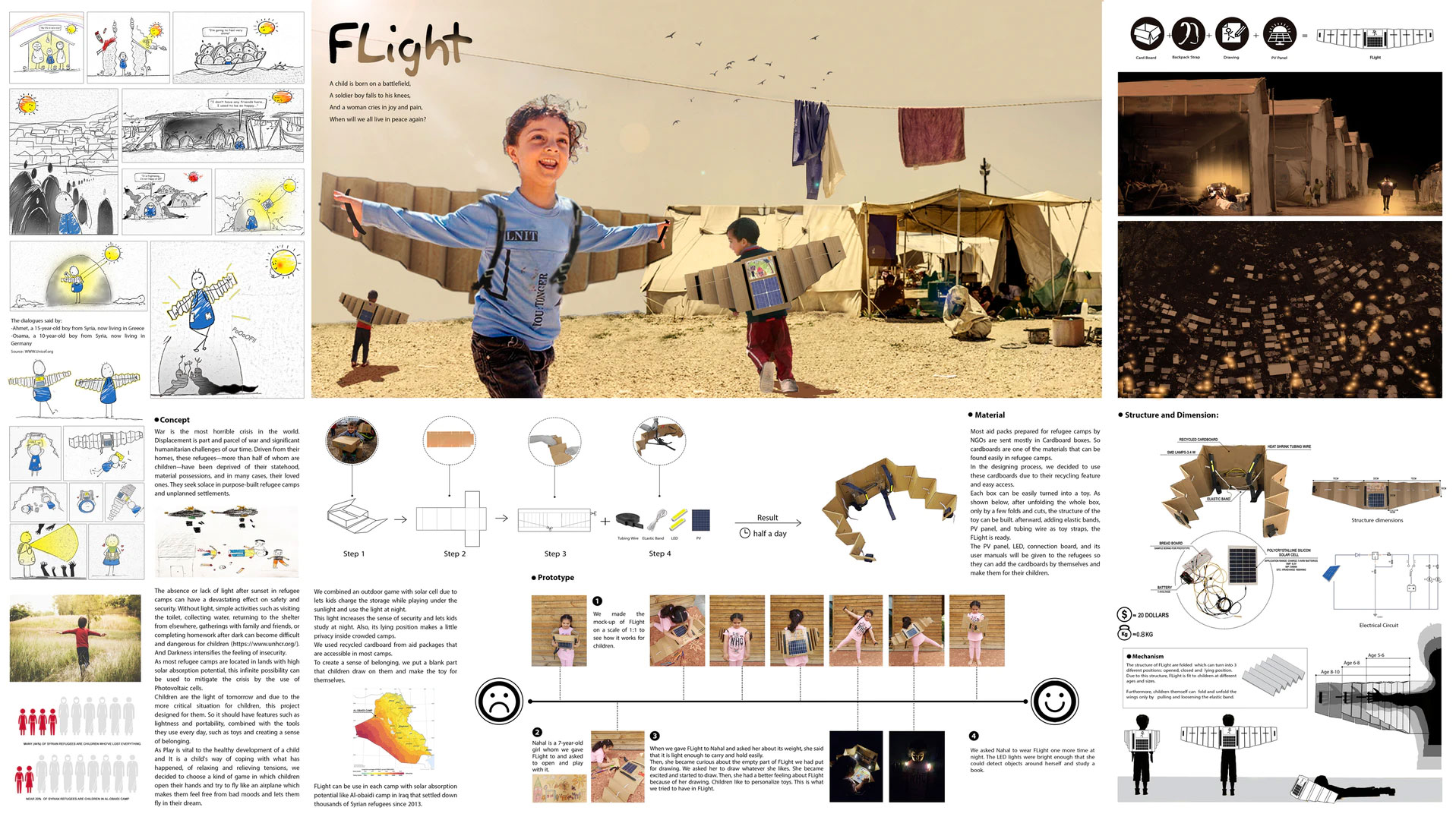 Category
Daylight investigations - Region EASTERN EUROPE & MIDDLE EAST
Students
Sajjad Navidi
Mahya Mousavi Sadr
Elham Bahadori
Teacher
Rima Fayaz
Maryam Fakhari
School
University of Art, Tehran
Country
Iran
Download
Download ↓
War is the most horrible crisis in the world. Displacement is part and parcel of war and significant humanitarian challenges of our time. Driven from their homes, these refugees—more than half of whom are children—have been deprived of their statehood, material possessions, and in many cases, their loved ones. They seek solace in purpose-built refugee camps and unplanned settlements, where they wait for their displacement or attempt to begin a new life.
Refugee camps' problems, such as congestion, poverty, lack of hygiene and drinking water, lack of safety and lack of light causes thousands of physical and mental difficulty for families, especially for children. The absence or lack of light after sunset can have a devastating effect on safety and security. Without light, simple activities such as visiting the toilet, collecting water, returning to the shelter from elsewhere, gatherings with family and friends, or completing homework after dark can become difficult and dangerous for children, particularly for girls (https://www.unhcr.org/). And Darkness intensifies the feeling of insecurity. As most refugee camps are located in lands with high solar absorption potential, this infinite possibility can be used to mitigate the crisis. Photovoltaic cells can be used to absorb and store daylight and use it at night. Children are the light of tomorrow and due to the more critical situation for children, this project aims to provide light for this group. So it should have features such as lightness and portability, combined with the tools they use every day, such as toys and creating a sense of belonging.
As Guidelines on Protection and Care for Refugee Children said, playing, dancing, and drawing are the most appropriate activities for 5 to 10 years old children. Play is vital to the healthy development of a child. It is a child's way of coping with what has happened, of relaxing and relieving tensions. So we decided to choose a kind of game in which children open their hands and try to fly like an airplane which makes them feel free from bad moods and lets them fly in their dreams. We combined an outdoor game with solar cell due to lets kids charge the storage while playing under the sunlight and use the light at night. This light increases the sense of security and lets kids study at night. Also, its open structure makes a little privacy inside crowded camps. We used recycled cardboard from aid packages that are accessible in most camps.
To create a sense of belonging, we put an empty part that children draw on them and make the toy for themselves. Among countries facing conflicts, Syria -in the middle east- has been embroiled in a civil war since 2011. During the 11 years of the war, nearly 13.5 million people have been forced to abandon Syria and seek refuge in neighboring countries such as Turkey, Iraq, Lebanon, and Jordan. Including 10 camps for Syrians in Iraq, We have selected Al-Obaidi Camp in the Iraqi province of Al-Anbar for this project with the most solar absorption potential. Thousands of Syrian live in Al-Obaidi Camp since 2013. In addition to Al-Obaidi camp, this can be used in all refugee camps with the same climate and high solar absorption potential.