TIP - Time Indicate Protection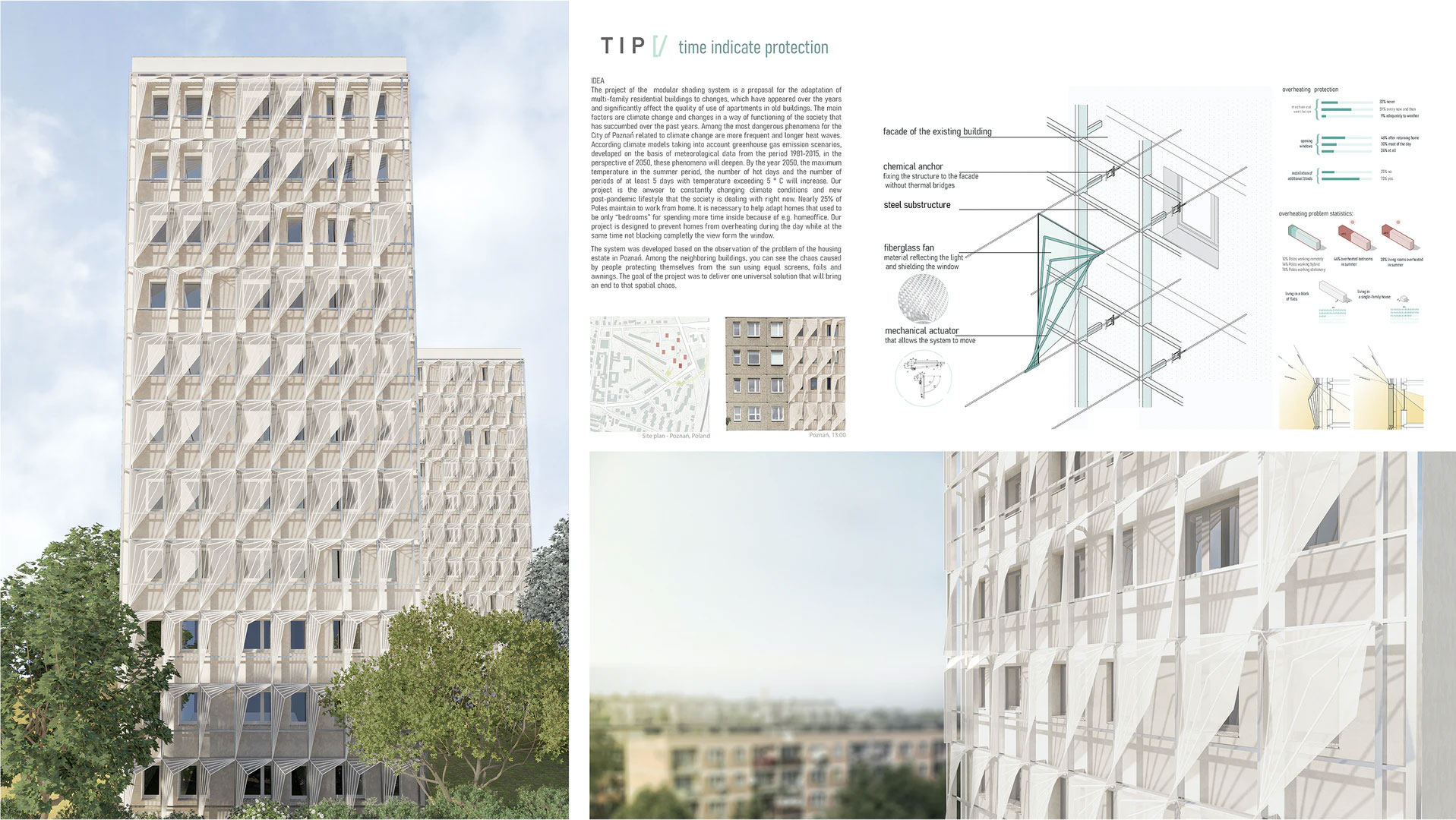 Category
Daylight in buildings - Region EASTERN EUROPE & MIDDLE EAST
Students
Zuzanna Sazonow
Aleksandra Pytka
Teacher
mgr inż. arch. Patrycja Kamińska
School
Politechnika Poznańska, Poznań
Country
Poland
Download
Download ↓
IDEA
The project of the modular shading system is a proposal for the adaptation of multi-family residential buildings to changes, which have appeared over the years and significantly affect the quality of use of apartments in old buildings. The main factors are climate change and changes in a way of functioning of the society that has succumbed over the past years. Among the most dangerous phenomena for the City of Poznań related to climate change are more frequent and longer heat waves. According climate models taking into account greenhouse gas emission scenarios, developed on the basis of meteorological data from the period 1981-2015, in the perspective of 2050, these phenomena will deepen. By the year 2050, the maximum temperature in the summer period, the number of hot days and the number of periods of at least 5 days with temperature exceeding 5 ° C will increase. Our project is the anwser to constantly changing climate conditions and new post-pandemic lifestyle that the society is dealing with right now. Nearly 25% of Poles maintain to work from home. It is necessary to help adapt homes that used to be only "bedrooms" for spending more time inside because of e.g. homeoffice. Our project is designed to prevent homes from overheating during the day while at the same time not blocking completly the view form the window.
The system was developed based on the observation of the problem of the housing estate in Poznań. Among the neighboring buildings, you can see the chaos caused by people protecting themselves from the sun using equal screens, foils and awnings. The goal of the project was to deliver one universal solution that will bring an end to that spatial chaos.
CONSTRUCTION
The system works on the principle of a fan that is opened by means of an actuator, in line with the insolation of the building. The structure has been designed in such a way as to protect the interior from overheating, but at the same time allow natural daylight to enter. The sun's rays reflect off the glass-fiber shielding material. The material is light and translucent, which, unlike the roller shutter, does not take complete contact with the outside. Additionally, the façade of a heavy building block becomes light and organizes the space with modular use. The system can be adapted to different places in the world, taking into account the phases of fan opening to sunlight in a given location.